Chairman's Message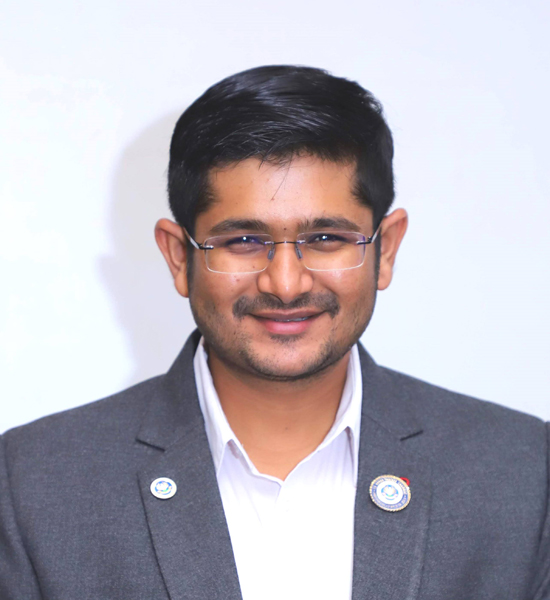 CA. Karan Thacker,
Chairman
Gandhidham Branch of WIRC of ICAI
Dear Professional Colleagues,

Wishing you and your family a prosperous and healthy new financial year 2020-21. We are beginning this financial year amidst a lockdown due to the COVID-19 pandemic. It is very important to stay at home and also ensure that family members, relatives, friends, people in your building / society / neighbourhood and everyone else you know stays at home to maintain social distancing. I request everyone to take good care of yourself and your family; with positive energy we can conquer this disease sooner than later. On behalf of the entire fraternity, I would like to extend our gratitude to all front-line workers and essential service providers who are risking their lives on a daily basis for us.
Krishna, in the Bhagavad-Gita (Chapter 7), professes isolation as an essential characteristic of the wise who continually seek supreme wisdom. Such seekers of wisdom constantly live in solace and are detached from the general mass of people. They see social isolation not as a threat but as an opportunity for it provides them with a chance to analyse, contemplate and meditate for better solutions for a greater good.
As we undergo social distancing and isolation for the overall benefit of ourselves, our loved ones, society and country, let us utilise this golden opportunity to improve ourselves, sharpen our skills and become a better professional and person.
Apart from maintaining social distancing and isolation to break the chain of COVID-19 virus, it is our moral and social responsibility to help needy people. We should be thankful that we are currently in a position to be able to help others and we should utilise this opportunity for the same. I would request you to generously contribute to "ICAI COVID-19 Relief Fund" which shall be utilised to support government initiatives to strengthen infrastructure and fight the pandemic. The details are available at https://www.icai.org/new_post.html?post_id=16403&c_id=240
Branch Initiatives:
Online Webinar for Members and Students
For the benefit of Members and Students during this time of Lockdown and for enhancement of skills, the Branch had arranged a webinar for Students on "Effective Utilization of Lockdown and Habits thereafter" on April4, 2020.Also the Branch has scheduled a Webinar Workshop on Excel for Members on Tuesday, April 7, 2020.
ICAI Initiatives:
Option to pay 10-year membership fees in one go
Members are allowed to pay advance COP fee and/or Membership fee for a period upto 10 years with GST. Benefit of decision will be.

In case of any shortfall and/or in case of revision of fee in future, the member will not be responsible for the payment of balance amount and/or refund, as the case may be, and his/her name will not be removed from the register of members on account of shortfall/ revision of fees, and an ACA who has paid advance membership fee for a certain period not exceeding 10 years and at a later stage, opted for FCA, then the member is only required to pay difference fee (the difference of fee in ACA to FCA) for the remaining period.

In our busy professional schedule and meeting deadlines, there is always a chance that payment deadline for yearly membership/COP fee could be missed unintentionally and in that direction, the above facility will ensure continuity of membership and your association with alma mater. I am sure you will utilize this facility.

Looking forward for your active cooperation and support in achieving our vision and praying that God will shower his blessings and help us during this difficult time.
एक मुद्दत से आरज़ू थी फुरसत की..., मिली , तो इस शर्त पे कि किसी से ना मिलो ..!!
With Best Wishes
CA. Karan Thcaker
Chairman,
Gandhidham Branch of WIRC of ICAI