Chairman's Message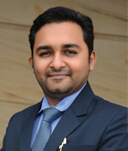 CA Animesh Modi, Chairman,
Gandhidham Branch of WIRC of ICAI
Respected Professional Colleagues

Greetings to all my fellow professional colleagues! I feel privileged to address you all from this forum as Chairman of Gandhidham Branch of WIRC of ICAI. I am thankful to all of you for having accepted me as the Chairman of Gandhidham Branch of WIRC of ICAI. I consider this as an opportunity bestowed upon me to serve my profession and professional colleagues. Change is the only thing which is permanent in this world and I have assumed this position as a Chairman as a result of inevitable change that had to take place. I take this opportunity to congratulate CA Kartik Varaiya the immediate past Chairman for his excellent and relentless work for the cause of Gandhidham Branch. Also, I acknowledge and appreciate my predecessor and all the past Chairmen for their valuable contribution while uprising the Gandhidham Branch to its current position.

I must appreciate that, with you we had also dreamed, believed and achieved at branch level with so many activities and steps.

Our vision is based on hard work, open communication, a strong emphasis on a team work and high level of responsibility. This visionary culture allows and emphasizes our wards not only to adopt the present day challenges but also individual responsibility towards our community. keeping this is mind this year, I will surely try my level best to achieve all the excellence at branch level with the best quality work and activities, I will maintain the high standards set by our past chairman.

We have planned several programmes during the year 2018-19 for the benefit of members and students, the details of which shall be circulated amongst the members through E-News Letters and other communication means. The Committee of Gandhidham branch is the judicial mixture of young and senior, enthusiastic and experienced members. I am sure with the support of all the members of managing committee and Branch Staff and above all the Chartered Accountant fraternity of Gandhidham Branch, we will be in a position to match your expectation. I seek your whole hearted support, in all our endeavors. It is your support that keeps us moving.

I hereby request Members and students to visit Gandhidham Branch website www.gandhidham-icai.org for details and registration of all the events.


CA Animesh Modi
Chairman,
Gandhidham Branch of WIRC of ICAI